ALPHA-CIM, the sister company of FB Technology, has been elected winner of the 2019 inter airport Europe Innovation Award in the interDATA category, seeing off strong competition to secure the accolade.
The inter airport Europe awards acknowledges the airport industry's best recent innovations. This prize confirms ALPHA-CIM 's commitment to developing innovative and smart softwares for airports all over the world.
Françoise Boucarut, Executive Director of ALPHA-CIM
We are deeply pleased and proud to be honored with this Innovation Award in the interDATA category. To be recognized by the international airport community is very important, and it is really humbling to receive the award in the presence of so many leaders, really giants, of our activity. The award is a credit to all those who have worked hard on developing ISAC over the past years.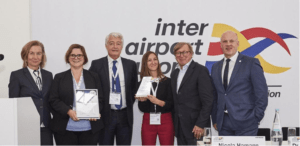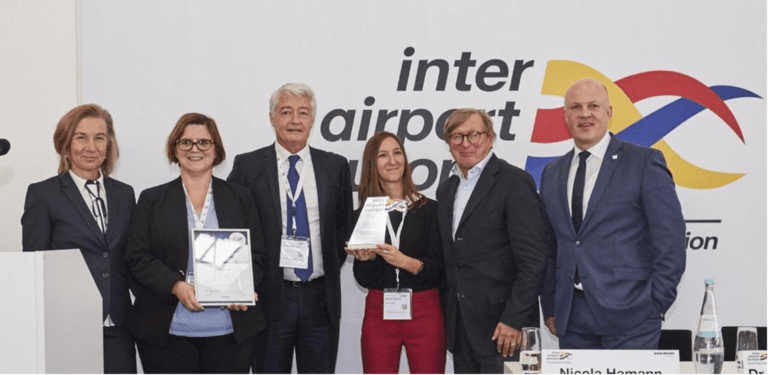 About ISAC:
ISAC is a lead-on & stop bar control system with Fiber Optic.
Many runway incursion incidents results from pilots misunderstanding of ATC instructions and poor weather condition with minimal visibility. The visual ground guidance system called lead on & stop bar system is critical to secure the traffic. ISAC's ambition is to control this visual guidance with the highest efficiency.
The main benefits of ISAC are its excellent response time, its ease of implementation, its suitability for incursion detection & ASMGCS and its expandability at will by airports personnel.
This solution brings to airport's operators a more responsive and reliable equipment than current basic powerline products.
As a reference, ISAC is currently being installed at Casablanca International airport.
The award was voted for by the international airport community, and ALPHA-CIM was formally presented with the first prize during the Opening and Awards Ceremony, which took place on the morning of 8 October.
inter airport Innovation awards are granted during the bi-annual Exhibition at the Munich Trade Center. The awards promote industry advancements in interconnected airport, improved security systems, intelligent passenger, baggage handling systems and innovative ramp equipment.
About ALPHA-CIM:
ALPHA-CIM is a French leader in automation systems integration and industrial IT. The company covers sectors as airports, industry, building, Defense and environment. FB Technology joined ALPHA-CIM group in 2008.